SIFNOS

SIFNOS

TRANSPORTATION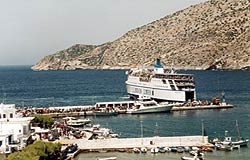 In the summer time the island has daily ferry, catamaran, and hydrofoil service to Piraeus and Milos. Transportation from Piraeus by ferry takes five hours, while by high-speed vessel two and a half to three hours. There is also direct (or via transfer) transportation from Siphnos to many of the other Cycladan islands, for example, Kimolos, Milos, Paros, Ios, Syros, Amorgos and Santorini. Traveling to Crete via Milos (and sometimes Siphnos) is also possible.

During the rest of the year, the frequency of transportation follows a seasonal schedule. Visitors are advised to consult with the appropriate Port authorities and marine travel agencies.

Airports closest to Siphnos are on the islands of Milos and Paros. The island has a fully equipped heli-port for emergency cases, located north of Exampela, near the monastery of the Virgin Mary, The Vrisiani.

The twelve villages of the island have regular bus service during the summer time; taxis are also available.
Please share your opinion of it with other travelers. Write a review!