SIFNOS

VATHI

ABOUT VATHI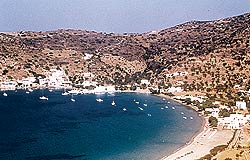 If you approach Vathi on foot from Katavati, you will pass through the old Firogion monastery, and further down the trail you will encounter the church of Saint Andreas (1701) in the same area as the prehistoric Acropolis.

The archeological sites here suggest that the area was continuously inhabited from the Mycenaean period on, until the Hellenistic years. Half way between Katavati and Vathi, you will also find the Monastery of Taxiarchis of Merisini (1738).

On the right end of Vathi's long beach, the shape of the horseshoe, are located the churches of Taxiarchis and the Virgin Mary's Annunciation, which can be reached by hiking.

Vathi has rooms for rent, restaurants, and grocery shops. In the old days, Vathi was famous for its exceptionally well-made ceramic pots, which were exported to the nearby Cycladian islands, but also as far as Crete, Cyprus and Alexandria. This old tradition of pottery making is still alive in Vathi. Make sure that you will visit the pottery workshop and gallery.
Please share your opinion of it with other travelers. Write a review!