SIFNOS

SIFNOS

TREKKING TRAILS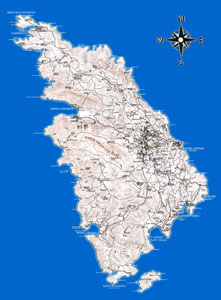 To appreciate the rich history and culture of Siphnos, but also to enjoy panoramic views and the quiet of the countryside, it is worth taking one of the many old trails, starting in Apollonia, to explore some of the old churches with their rare icons and interesting architecture, for example Saint Simeon, the old Monastery of Prophet Elias, the Virgin Mary of So Much Water, Saint Marina in Flambouro, Saint John of the Black Village, Saint Nikolaos and the Windswept Spot, and the Virgin Mary of Poulati, a beautiful spot for swimming popular within the locals, or the old mines of Saint Sostis or one of the fifty - seven ancient towers and castles that can be found in various parts of the island.

For example, short hike that is highly recommended covers he distance from Glypho to Apokofto (or the other way around); the natural rest stop in Saint Charalampos offers one of the most panoramic views of the Aegean Sea.
Please share your opinion of it with other travelers. Write a review!