SIFNOS

ARTEMONAS

ABOUT ARTEMONAS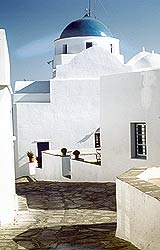 Of the many windmills that used to stand at the top of the hill, today only two are in good condition. This spot is worth a visit for its panoramic view not only for the other villages, including Kastro, but also of the nearby islands. In Artemonas visitors can see the house where the poet Gryparis was born, the churches of the Virgin Mary of Kohi, for its interesting architecture, the Virgin Mary of Samos, an extension to which was added in1788 and where you will find the icon of the Virgin Mary, The Nun, a rare iconic depiction of Mary without the Holy Child and the Virgin Mary of Balis, whose feast day is celebrated on November 21.

Artemonas has grocery stores, rooms for rent, tavernas, bakeries, ouzeri (small restaurants where traditional Siphnian appetizers are served), pastry shops, a small convenience kiosk and pottery workshops.
Please share your opinion of it with other travelers. Write a review!