SIFNOS

APOLLONIA

APOLLONIA TODAY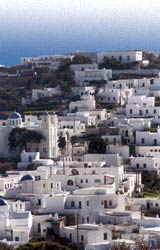 The island's commercial center, this is where you will find, among other things, news agencies, travel offices, banks, stationary shops, as well as the island's medical clinic, two pharmacies, the two police stations, the telecommunications facilities and gas stations. Apollonia has no shortage of restaurants, traditional coffee houses, cafes, bars, and souvenir gift shops.

Visitors can stroll on Apollonia's stone-paved streets and lanes, and enjoy the picturesque to local architecture, or have a drink or coffee at the many coffee bars or sample the delicious local cuisine in one of the many restaurants. To appreciate the local history and culture, a visit to the Folklore Museum in Apollonia's central square is highly recommended.
Please share your opinion of it with other travelers. Write a review!